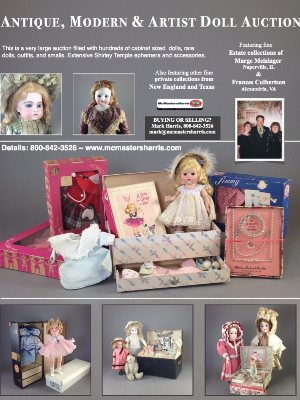 We just received this email from Dana Gaddy, Marge Meisinger's daughter. Marge and Earl, her husband, were instrumental in the founding of Modern Doll Collectors, Inc.  I'm sure she has some very special dolls in her collection! 
The McMasters-Harris doll auction will take place on July 30-31 that features the estate of Marge Meisinger. As you know, Mom's collection had many modern dolls from the 30's to present. The website is www.McMastersHarris.com. The money raised will help take care of my Dad, Earl Meisinger, who is 95 and in a memory care unit at an assisted-living facility.
Both my parents loved MDCC, went to conventions, and helped keep it going.
Thanks for considering my request.
Dana Gaddy
Click on the photo to visit the McMaster Harris auction website.